Epson Stylus 7600 Ultrachrome Color Proofer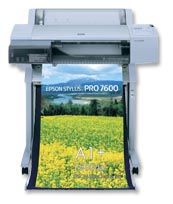 EPSON's latest 24" large format printer features a new advanced Micro Piezo™ printhead technology and 7-colour UltraChrome™ ink system and the ability of borderless printing.
The STYLUS™ PRO 7600 offers unparalleled output quality with the highest resolution available at 2880dpi, and its low running costs deliver cost effective prints every time. The user can choose between three different Black ink modes to optimise black ink density for various media types and printing applications. This large format printer is also the first of it's kind to offer true border-free printing on all four sides of the sheet.
EPSON UltraChrome™ ink
The print quality is unbeatable with the widest colour gamut ever. The seven individual UltraChrome™ ink set includes Light Black. The new Light Black enhances the grey scale gradations, therefore producing smoother tonal variations in colour and greyscale images. The new EPSON 7 colour UltraChrome™ ink set offers vibrant colour and black & white prints, with lightfastness in excess of 75 years.
The 7 colour EPSON UltraChrome™ ink set with interchangeable blacks guarantees maximum print quality on high quality fine art printing stocks. This improved way of producing colour and black & white printing, allows a truly neutral greyscale image with no colour "cross over" effects, as well as producing warm or cold greyscale prints using all seven colours. It also offers a straight paper path with automatic print head adjustment, ensuring the maximum print quality is obtained on heavy fine art media up to 1.5mm in thickness.
The Perfect Solution for any Business
Produce high quality display and signage prints up to 24" wide, easily and with great versatility, at a low investment cost. Effortlessly output aerial photographs to plans for the CAD/GIS market to premium point-of sale material, exhibition graphics, signage and banners at a very low cost per print. The EPSON STYLUS™ PRO 7600 is also ideal for printing on demand Limited Edition "Giclee" prints.
High quality and consistent inkjet contract quality proofs can be output on demand, and at a fraction of the cost of more traditional methods. Using the new EPSON UltraChrome™ ink set, the STYLUS™ PRO 7600 is able to easily reproduce the colour gamut of the printing press and also match the industry proofing standards.
Integrating seamlessly into a digital workflow, the EPSON STYLUS™ PRO 7600 is supported by a wide choice of third party RIP software and comprehensive software utilities, providing complete control of the final print output.
Summary
New EPSON UltraChrome(tm) 7-colour ink technology
Black ink optimisation to meet all printing requirements
New Light Black ink for superior greyscale images
New Advanced 2880dpi MicroPiezo™ Printhead Technology
EPSON Ultra MicroDot (4pl) Variable Sized Droplet Technology
High Print Quality, low cost per print
Versatile, flexible and easy to use
Lightfast in excess of 75 years
Edge to edge printing
Range of speciality media up to 1.5mm in thickness
High capacity ink cartridges
Supported by all leading RIP vendors